Save $495 when you buy Maptitude with the U.S. Census Block data (a $1,790 value).
Maptitude mapping software gives you the tools, maps, and demographic data you need to analyze and understand how geography affects you and your business. With Maptitude you can visualize data in new and different ways, unearth geographic patterns in your data, and convey that information in a straightforward manner.
Maptitude includes many tools that allow you to understand trends, evaluate sites, and define optimal routes. You can integrate Census statistics with your own data to identify geographic characteristics that impact you and your operations. In a few easy steps, you can locate your customers, color code ZIP/Postal Codes with your sales data, build bands around your stores, and much more. You will be amazed at how quickly you can enhance your decision making using this easy-to-use mapping tool.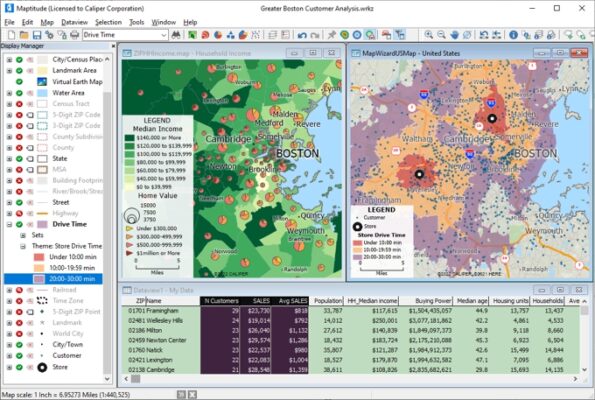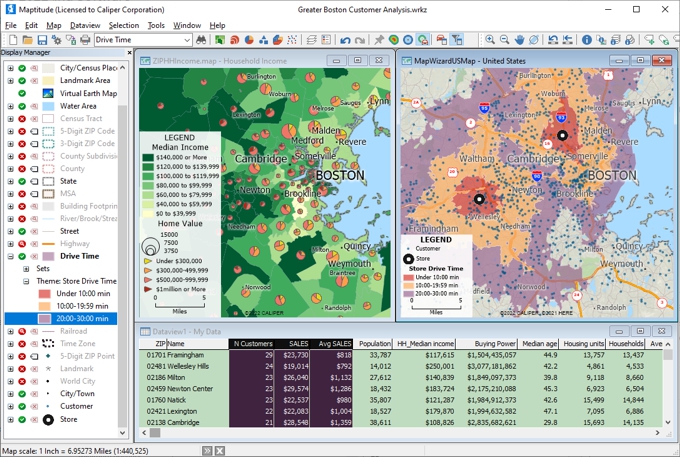 Unlike many other mapping and GIS software packages that require users to purchase data separately, Maptitude includes extensive geographic and demographic data so you can get started as soon as you open the box. In addition to a basic global map, each Maptitude license includes a FREE detailed Country Package. Each Country Package includes a street layer with addresses for pin-mapping (geocoding) and travel time information for computing routes and drive-time rings. Also included administrative boundaries, water bodies, and comprehensive named landmarks that range from public facilities to commercial buildings including shops, restaurants, and retail stores. Where available, postal data, railroads, building footprints for many urban locations, and detailed demographics are shipped with the product.
The U.S. Census Blocks data contains a nationwide area database with 8,145,663 blocks and Census demographic data from the 2020 Census. Blocks are the smallest entity for which the Census Bureau collects and tabulates Census information.
Includes: Maptitude Single-User License, United States Country Package, and U.S. Census Blocks.